3/7/2009
William Gladstone, portrait by John Millais, 1879
"Show me the manner in which a nation cares for its dead and I will measure with mathematical exactness the tender mercies of its people, their respect for the laws of the land and their loyalty to high ideals."
These are the famous words of Victorian British Prime Minister, William Gladstone. Gladstone proposes a good test of loyalty to high ideals, but I think that an even greater test would be the manner in which a nation treats someone else's dead. At the time Gladstones words were uttered, the British Empire was disturbing ancient burial sites all over the world. Sacking their treasures and hauling their remains to European museums. In fact, Egyptian mummies were ground up for use as pigment in oil paints. Perhaps some of these were used in the portrait of Sir William Gladstone that is shown above.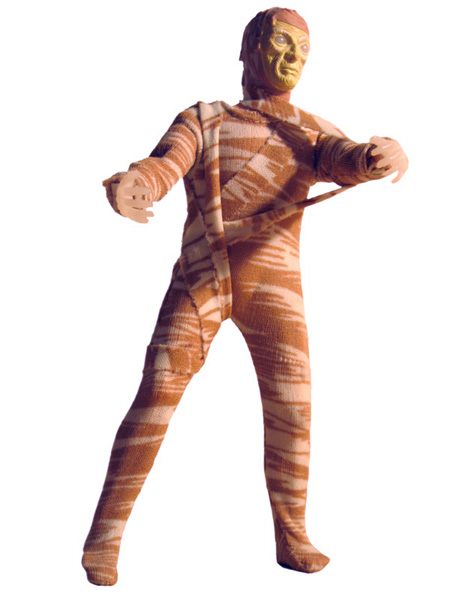 Is it just me, or is there a striking resemblance between Gladstone and the Mummy doll?
In the news lately, there have been a few stories about Native American tribes demanding their dead back from museums, and in one case, a secret ivy league club. I hope that as a people we have grown up enough to recognize that the dead from other cultures, places and times deserve the same reverence as our own.
Here is an article from the newspaper I delivered as a boy, The Times Union:
Ancient remains to resume journey
State Museum to yield 1,000-year-old bones to Onondaga Indian Nation
By PAUL GRONDAHL, Staff writer
ALBANY — After a dispute that dragged on for years, the State Museum will repatriate 1,000-year-old bones of 180 Native American people in its collection to the Onondaga Indian Nation as early as next month. "We expect those ancestors to come home soon so they can resume their journey to the creator," said Joe Heath, a lawyer who represents the Onondaga tribe in repatriation and other issues. "They belong in the ground. Nobody wants their ancestors dug up and treated like museum pieces." The skeletal remains will be placed in plain pine boxes and sent to a burial ground behind a longhouse on the Onondaga Reservation south of Syracuse, and re-buried.
A federal review panel ruled in favor of the Onondaga tribe last fall as part of the Native American Graves Protection and Repatriation Review Act. "We're going to go through with the process," said Clifford Siegfried, director of the State Museum, who said the earliest repatriation could take place would be at the end of April because of reporting rules in the law. The dispute dragged on because the State Museum holds nearly 900 ancient human remains in storage. Scientists want to be careful about setting a precedent for what happens to the rest of their archaeological holdings, even though most of the bones are not actively studied.
The remains in dispute were unearthed in the late 1960s during construction of Route 17, about 60 miles from today's Onondaga reservation. "We want to put them back into the ground as close as possible to where they started, but we also want them in a protected burial site so this tragedy doesn't repeat itself," Heath said.